Experience the revolution in phone mounting with the Sportlink Universal Phone Wall Mount. This innovative solution takes simplicity to the next level, allowing you to instantly and securely mount your phone to any wall, mirror, tile, or flat surface.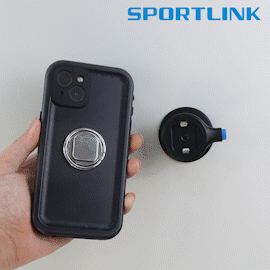 Perfect for Every Room: From the kitchen to the bathroom, bedroom, or home office, our wall mount is a perfect fit. Use it to follow recipes, take video calls, or keep your phone handy while working.
Works on Multiple Surfaces: Whether it's a mirror in the bathroom, a tile backsplash in the kitchen, or a flat wall in the living room, our mount can securely adhere to a variety of surfaces.
What's Included
1 x Universal Phone Wall Mount
1 x Ring Adaptor K4