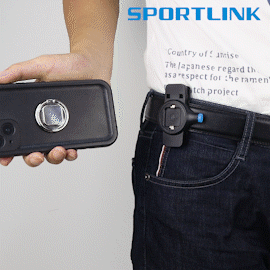 Ultimate Convenience at Your Fingertips
Revolutionize the way you carry your iPhone 15 or any other smartphone with the Sportlink Quick Mount Belt Clip. It's more than just a holder, it's your companion for a hassle-free and hands-free mobile experience.
Secure and Instant Access: Keep your iPhone 15 or any other smartphone securely attached to your belt, ensuring quick and easy access whenever you need it.
Water, Dust, Drop Protection: The Sportlink waterproof case ensures that your device remains safe even in unexpected situations, providing the ultimate peace of mind.
Effortless Mobility: Whether you're on a hike, in the gym, or working on a project, the Quick Mount Belt Clip keeps your device within reach, allowing you to focus on what matters most.
Quick and Easy Attachment: The quick-mount feature allows you to effortlessly attach and detach your iPhone 15 or any other smartphone, adapting to your dynamic lifestyle.
On-the-Go Efficiency: Whether you're a busy professional or a trendsetter, this belt clip is the perfect blend of style and efficiency, ensuring you're always ready for what's next.
What's Included
1 x Belt Clip
1 x Ring Adaptor K4
1 x Waterproof Case for your selected iPhone model